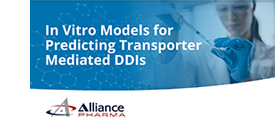 Membrane transporters play a critical role in drug-drug interactions (DDIs). Both major types of transporters — efflux and uptake — can affect absorption and drug disposition in the body. Transporters can impact drug safety and efficacy, acting alone or in concert with drug-metabolizing enzymes.
The picture of what is happening in the body gets increasingly murky when patients take more than one drug, which is increasingly common. To obtain insights of how DDIs occur and what their consequences might be, it is vital to conduct in vitro studies and generate the data required to determine whether clinical DDI studies are needed. This is an area where Alliance excels.
In Vitro Assessment of a Transporters' Potential Role in DDIs
The full picture of a new drug's DDI potential involves to determine:
How a new drug is absorbed and eliminated
How enzymes and transporters contribute to its disposition
How to characterize the drug's effects on enzymes and transporters


Properly designed in vitro transporter studies can support a prediction of whether a DDI through transporters is likely to be clinically relevant, and Alliance has all the tools needed to thoroughly evaluate potential transporter mediated DDIs. We use Caco-2 cells expressing efflux transporters such as P-glycoprotein (P-gp) and breast cancer resistance protein (BCRP), HEK293 cells transfected with uptake or efflux transporters including OATP1B1, OATP1B3, OAT1, OAT3, OCT1, OCT2, MATE1 and MATE2k, MDR1-MDCKII cells, and HEK293 membrane vesicles expressing P-gp, BCRP and BSEP to study transporters, which are outlined in FDA and EMA guidelines.
Helping Clients Solve Problems and Make Decisions
Our clients' primary need regarding drug transporters is to determine whether their drug candidate is a substrate or inhibitor of a transporter, and if that is clinically relevant. Clients need to know (1) when to do these experiments and (2) how comprehensive the experiments need to be.
(1) In a clinical program, it is crucial to know when to address questions about transporter mediated drug-drug interactions. That decision is driven by the clinical study design and the timing of the in vitro evaluation — which itself can vary based on the therapeutic indications of the investigational drug. For example, if the intended population is likely to use statins, the sponsor should examine their investigational drug's potential to interact with OATP1B1/1B3 before initiation of clinical studies in patients. Without a question, the co-medications patients are taking factor heavily, so companies must decide how restrictive they want their studies to be. To avoid these transporter studies early on (Phase I), companies can recruit and enroll only healthy volunteers with no current co-meds prescribed to them. However, when a drug is to be administered to the target patient population — patients actually affected by the disease the drug is being developed to treat — it is critical to consider issues such as co-meds, potential renal or other impairments, and the transporters of which the new drug is a substrate and/or inhibitor.
(2) The comprehensiveness of a transporter study is influenced by the relationship between predicted in vivo drug concentrations and the concentrations at which the drug is interacting with the transporter in vitro. For example, if you have a drug that is an inhibitor at a very high concentration, but that concentration will never be reached in the clinic, you might be able to justify forgoing additional testing. (FDA decision trees for this and related questions are available here.) In vivo protein binding and the free fraction of drug in the in vitro system are important data points also to understand and characterize. These are the kinds of decisions Alliance helps our clients make.
The Key Factors in Choosing a Suitable In Vitro Test System
The appropriate model for in vitro testing depends on the desired output. For example, if you need a rapid turnaround but don't require detailed characterization of a transporter interaction, rapid screening assays are sufficient. For more comprehensive characterization to determine whether to conduct a DDI study, HEK 293 singly transfected cells or the Caco-2 cell line are very useful for characterizing the kinetics of an interaction in detail and can be used to get the output needed. Choosing the right model to deliver the most accurate prediction of how a new drug will behave in vivo is a critical step.
Validating a Model and Experimental Conditions
Know inhibtiors and substrates are used to validate the transporter study models and experimental conditions and characterize assay performance. In other words, the most well-characterized substrates in the literature — substrates that have been studied in vitro and in vivo — are used to establish the assay initially, and then the assay quality is consistently evaluated to determine that the assays are running properly. This approach allows us to build up a history of in house data and continuously assess model performance.
How Alliance Stands Out in This Area
Alliance's range of models from cell lines to singly transfected systems provides diverse options for our clients and provides rapid turnaround or comprehensive kinetic characterization. With these models and expertise, Alliance Drug Metabolism Services is able to help our clients answer their most challenging and important questions. The bioanalytical support from the strong Bioanalytical teams at Alliance ensure the study data integrity and dependable timelines. Very few of our competitors have this diversity of models up and running routinely, setting us apart.
One unique advantage for Alliance is our in-house expertise using Caco-2 cells. This is a polarized cell line expressing efflux transporters such as P-gp, BCRP and MRP2 that is physiologically similar to human small intestine cells, making it relevant to in vivo studies. The Caco-2 cell model is a valuable tool for evaluating P-gp and BCRP-mediated transport and assessing potential DDIs.
When it comes to DDIs, drug transporters continues to evolve, and new transporters are frequently identified. More and more drug transporters have been found to be clinically relevant. Alliance is always ready to adopt and implement new models when transporters are identified as physiologically relevant to human. We also have the expertise to characterize new transporter study models lacking of regulatory guidance, for example, our recent adoption of a bile salt export pump (BSEP) model, which does not yet appear in FDA guidance.
Alliance's team members have a unique and deep understanding on how transporter-mediated DDI studies should be designed and executed. We understand how transporters behave, how they interact, and how they can cause clinically relevant DDIs. Whether a new potential drug is at the early discovery stage or the late developmental stage, Alliance can help our clients in the transporter studies. Visit the Alliance website to explore our capabilities and expertise.